Regular price
Sale price
$18.95
Unit price
per
Sale
Sold out
In stock
La influencia demoníaca en las mujeres de hoy.
Tapa blanda, 232 páginas.
Shipping Information
Share
View full details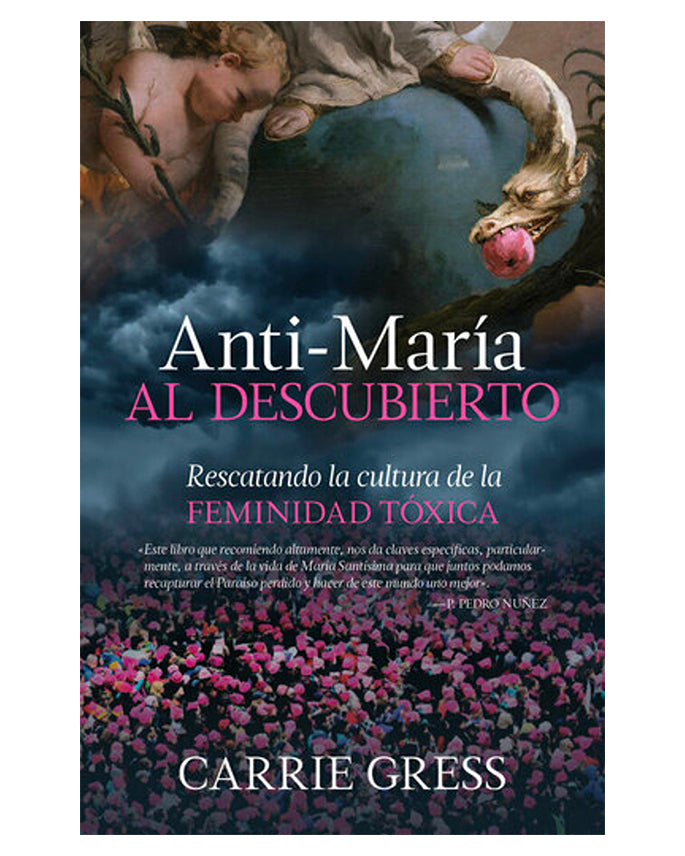 Shipping Information
Low cost $3.95 flat rate shipping for all orders in the United States.
In stock items are shipped in 1-2 business days and include USPS tracking.
Faster shipping options are available with USPS Ground Advantage or USPS Priority Mail.
Most books are shipped in sturdy boxes and secured with packing material for protection during transit. All books are sold new and we take great care to ensure that they arrive in new condition.
International Shipping
We accept international orders and may ship via USPS International or DHL. Customs and other import duties are paid by the customer, when it reaches them. Customers are expected to know their own countries' customs and other import charges. Please contact your local postal system for information. We reserve the right to not issue refunds or credits of any kind for international shipments that are abandoned or discarded by customs. By ordering you agree to these terms.
Descripción
A finales de los años 60, un pequeño grupo de mujeres de élite estadounidenses convenció a una abrumadora mayoría del país de que la destrucción de la relación más fundamental –la de madre e hijo– era necesaria para que las mujeres tuvieran vidas productivas y felices.
De la destrucción de esta relación siguió la decadencia de toda la familia y casi de la noche a la mañana, nuestra cultura que alguna vez fue provida, se convirtió en pro estilo de vida, acogiendo todo lo que se siente bien. Sesenta millones de abortos después, las mujeres no muestran signos de salud, felicidad y realización. Un mayor número de divorcios, depresión, ansiedad, enfermedades de transmisión sexual y abuso de drogas apuntan a la realidad de que las mujeres no son más felices, sino que están más medicadas.
Los enormes cambios culturales han llevado a un replanteamiento de la feminidad, pero ¿podrá haber algo más detrás de ello que la cultura, la política y la retórica?
Partiendo de los fundamentos bíblicos del anticristo, Carrie Gress, Ph.D. investiga en profundidad la idea de un anti-María –como espíritu, no como individuo– que ha plagado al Occidente desde los años 60. Engañando a generaciones de mujeres, este espíritu antimariano ha conducido a la feminidad tóxica que ha destruido la vida de innumerables hombres, mujeres y niños.
También en Anti-María al descubierto:
Cómo el feminismo radical está conectado con los errores de Rusia, de los que habló Nuestra Señora de Fátima. La implicación e influencia del movimiento de las diosas y del ocultismo.
La influencia de demonios «femeninos», como Lilit y Jezabel.
El repulsivo lado oscuro de los principales arquitectos del feminismo radical.
Una mirada al matriarcado, una camarilla de mujeres de élite comprometidas con el aborto, que controlan el pensamiento de la mayoría de las mujeres a través de los medios de comunicación, la política, Hollywood, la moda y las universidades.
El antídoto contra el anti-María es, por supuesto, María, la Madre de Dios, conocida ampliamente como la mujer más poderosa del mundo y la fuente de la creencia de que las mujeres deben ser tratadas con dignidad. Ella es el modelo de todas las virtudes y cualidades –pureza, humildad, bondad, belleza– que se oponen a esta fuerza siniestra que ha hechizado a tantas mujeres. La influencia de María no se compara con ninguna otra mujer de la historia. Ella es el modelo perfecto de la feminidad cristiana, que desea ser una madre espiritual para todos nosotros, conduciéndonos a su Hijo y a la realización de los deseos más profundos de nuestro corazón.
Collapsible content
Product Details

Publisher: TAN Books (2021)
Author: Carrie Gress
Format: Tapa blanda
Pages: 232
ISBN: 978-1505123067
Dimensions: 5.5 x 0.8 x 8.4
Language: Español